Student loans are pesky annoyances that can linger around for way longer than you can even imagine!
A small sum borrowed during school can quickly snowball into an unmanageable amount if you let it. 
Don't let that happen to you! 
One of the ways that you can keep your student loans under control is by refinancing them.  
So, today I am going to go over everything you need to know about student loan refinancing and why I believe Earnest loan refinancing is the best out there for it! Keep on reading to learn more and read the Earnest Loan Refinance review!
Posts you may like:
How to Avoid Student Loans and Why,
Ways to Save Money on a Tight Budget and Not Hate Life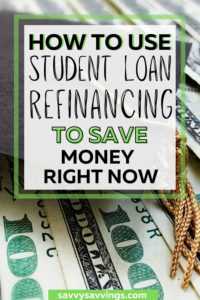 What is Student Loan Refinancing?
Student loan refinancing is basically when a private lender pays off your current loan, and gives you a new loan, often with better terms. 
This is similar to refinancing your house. But unlike refinancing your house, there typically aren't any fees to refinance your student loans!
Why would you want to refinance your student loans?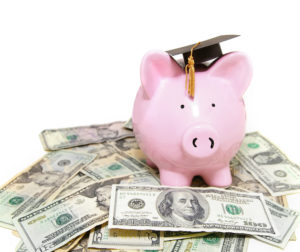 There are many reasons why you may want to refinance your student loans. I believe the main reason most people want to refinance is to get a better interest rate. 
Saving even .5% or 1% on your interest rate can make a huge difference over the life of your loan! And, the more you owe, the more you can benefit from refinancing!
You may want to refinance your loans to lower your monthly payment. This often comes in connection with a lower interest rate, as well. 
You can use this student loan refinancing calculator to see how much you could save by lowering your interest rate!
Should everyone refinance their student loans?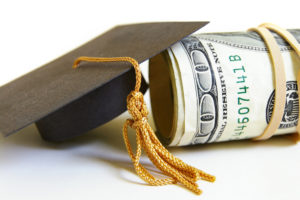 Now, I will say not everyone should refinance their student loans. It all depends on your individual situation. 
As an example, right now, we are in the middle of a pandemic and the government is providing temporary relief for federal student loans (suspension of loan payments, stopped collections on defaulted loans, and 0% interest has been extended through at least September 30, 2021). 
So if your loans are currently federal student loans, I would not refinance right now because the interest rate is 0%. Which is way better than any refinancing company can give you!
I would recommend that you keep making payments, though, if you are able to. This is an excellent opportunity to pay down your principal balance without accruing interest!
Another reason why you may not want to refinance is that you are working toward federal loan forgiveness. Refinancing would make your loans ineligible for forgiveness. 
You do have to have somewhat good credit to qualify for student loan refinancing. Since this is essentially taking out a new loan, all lenders will check your credit before approving you. I believe Earnest requires that you have at least a 650 credit score to be approved.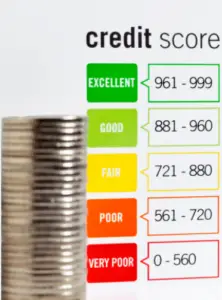 So you will want to make sure your credit is in good shape before applying. 
You also will want to make sure you have the means to pay your new loan. If your income is not stable, you may want to hold off on refinancing from federal loans to private loans.
Federal loans offer a few different re-payment options that are based on your income.
If you need to take advantage of these at some point, you will want your loans to remain federal student loans. 
What is the best student loan refinancing company?

From my experience, Earnest is the best student loan refinancing company! I have used them TWICE now to refinance my loans. 
Fun fact! You can refinance your loans multiple times! Earnest even lets you refinance with them multiple times!
I refinanced my student loans from federal student loans to Earnest back in 2019. I was working on a plan to get my loans paid off as quickly as possible and Earnest offered me a rate of 4.3%! My federal student loan rate was 6.25%. 
On my balance of about $25,000, I saved myself thousands in interest and moved up my payoff timeline by quite a few years! 
The perks of using Earnest to refinance student loans:
 In-house Servicing
Customized Loan Terms
Skip 1 Payment per Year
Bi-weekly Autopayments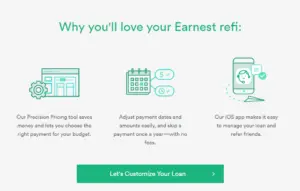 Now, if I were a psychic and could've seen the future back in 2019, I probably would've held off on refinancing so that I could take advantage of the temporary government relief that's in place right now. But you win some, you lose some. 
But since interest rates are so low right now, it dawned on me that I should look to see if I can lower my rate even more and if it was even possible to refinance again. 
As I mentioned above, it turns out you can! 
So I googled student loan refinancing and I checked my rates with all of the refinancing companies (SoFi, Splash Financial, LendKey, etc). 
Checking your rates at different companies is super simple, fast, and does not affect your credit score at all!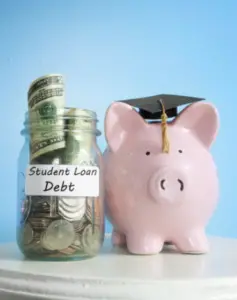 Earnest offered the lowest rates, by far, both times! And they allow you to refinance your loans with them multiple times after you have made 6 months of on-time payments! Woohoo! 
I got a new rate of 3%! So I've lowered my rate by 3.25% from my original loans, saving even more on interest! 
And I have a lower monthly payment, even though I am keeping my payment the same, which will help me expedite my payoff!
If you are ready to refinance, you can use my Earnest referral code and we both get $200!
The Process of Refinancing Your Loans with Earnest
Step 1: Getting Your Rate 
The process to refinance your loans with Earnest is pretty simple!
The first step is to get your rate. From the Earnest website, click on "Get Your Rate".
It will bring you to the first page to put in your name and email address: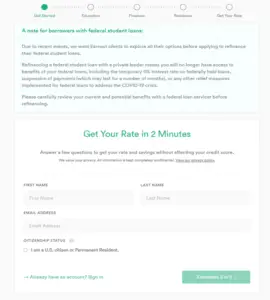 *They have a nice note informing people of the current relief that is in place, so make sure to consider this before proceeding!
On the second page, you are prompted to enter your education information: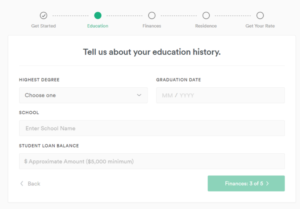 Then the third page asks for some of your financial information: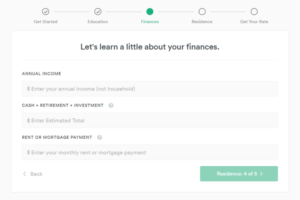 On page 4 you enter your address: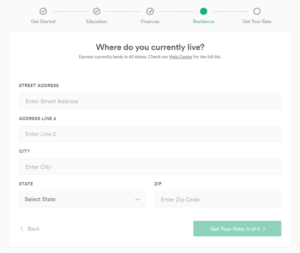 And finally, you create a password and enter your social security number so that Earnest can generate your rates (your credit will not be hit with a hard inquiry at this point):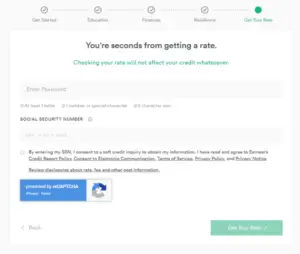 And finally, you will see all of your interest rate options to choose from! The coolest thing about Earnest is that they offer customizable loan terms! You get to pick your rate, payment term, and payment amount!
Just as an example, here are the Earnest refinance rates I was quoted (these will vary from person to person):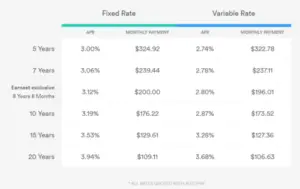 I went with the first option here under the fixed rate. I considered going with the variable rate as rates are so low right now and I don't think they will go up for a while.
But ultimately, the variable rate wasn't that much lower than the fixed-rate so, to be safe, I went with the fixed rate. 
Again, these rates are specific to me and my credit and financial situation. Yours will be different and based on your individual information!
Step 2: Submit Formal Application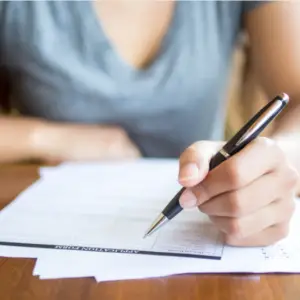 Once you check your rates, you have a few days to accept the rates and submit the formal application. This is very simple and quick as well as they already have the majority of your information. 
The one thing that stuck out to me during my application is that they asked for confirmation of my savings accounts. So I took screenshots of all of my accounts showing the date, my name, and balance.
Once I submitted my application (sorry I didn't take screenshots of this portion), I got an email saying Earnest received my application and that I would hear from them shortly!
Step 3: Get Approval and Finalize Details
And just over 24 hours later, I received an email saying my loan was approved!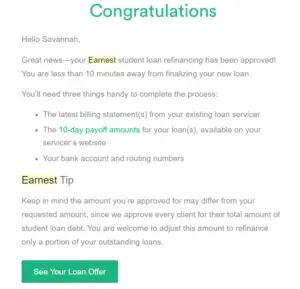 Once I clicked over to the Earnest website, it brought me to this screen with 5 final steps to finalize your loan: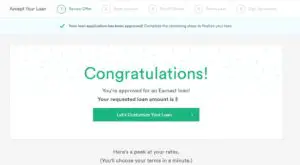 On page 2 you will enter your bank account information for your payments: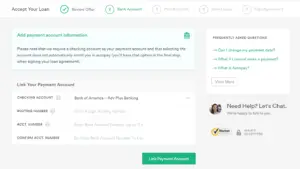 The third page asks for your current loan information: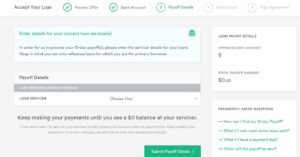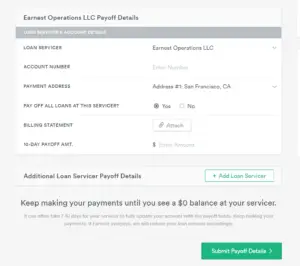 Then you'll get the rate screen again and you choose your terms.
And finally, you electronically sign your paperwork!
Earnest's paperwork is very straightforward and easy to understand. And you get a copy of it to your email for safekeeping!
Then, within 10 days, Earnest will pay off your old loan and set up your new loan in the system! It's that easy!
Earnest Loan Refinance Review
I truly believe that Earnest is the easiest company to use for student loan refinancing and they give you the freedom to choose your own loan terms, which is awesome! And so unique!
If you have private student loans right now and at least a 650 credit score and stable income, then I would encourage you to consider refinancing your student loans!
It doesn't hurt anything and is super quick to get your rates from different lenders, so you might as well see what they can offer you!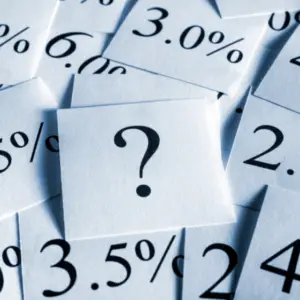 Earnest Student Loan Consolidation
Earnest also offers student loan consolidation. Consolidation allows you to combine multiple loans into one "consolidated" loan, with new terms and a new loan!
The process is pretty much the exact same as refinancing, you just have to add the information for all of your different loans into the application.
And, voila! You have a new loan with only one payment to keep track of!
Are you Ready to Refinance?
If you want to refinance your loans with Earnest, you can get a $200 bonus by using my Earnest referral code here!
Please let me know in the comments if you are looking to refinance right now due to the low rates!