Have you ever wanted to plan an EPIC trip to Europe, but felt like you didn't have the money? Well, I am here to show you how I booked an awesome 2 week trip to Italy and Greece mostly on credit card points and how you can too!
My boyfriend and I were supposed to take a 2-week vacation to Italy and Greece this past April, but COVID had other plans for us, unfortunately.
But once we can travel again I plan on booking this trip ASAP! And hopefully for a longer period of time (I'm thinking 3-4 weeks)!
So, let's dive in to see how I booked everything for so cheap using credit card points, and how you can too!
If you are not currently using credit cards or you don't know very much about them in general, read this post about how credit cards work to learn everything you need to know about them first, like how they work and how you can use them effectively while maximizing your value!
Related Posts: Planning a Trip to Hawaii (on Points!)

The Ultimate Guide to Credit Card Hacking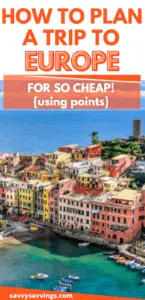 Step 1: Accumulate Points in Different Rewards Programs!
General Points:
I have always been a Chase Ultimate Rewards fan ever since I got into credit cards. Because of this, I am always trying to accumulate them whenever I can.
Once we decided to plan a trip to Europe, I knew I wanted to use some of these points for hotels through the Chase rewards portal.
If you have the Sapphire Preferred, the Sapphire Reserve, or the Ink Business card your points are worth 25% or 50% more when you redeem them for travel through their portal.
You can find some great value through this portal!
You can also transfer your Chase points to a bunch of other programs. Click here for more information on Ultimate Rewards and the transfer partners.

Hotel Points:
I also previously got the Marriott Bonvoy Business card and the Hilton Amex Business card through Amex just to accumulate points with no specific plans at the time. I went with the Business versions so that they did not affect my Chase 5/24 status. Read more about credit cards and how they work here.
But, once we decided on this trip I knew these points would come in handy! (*I personally don't think hotel programs are the best value when it comes to rewards, but I figured for a big trip like this they would be worth it. Most of the time I would prefer to pay the $100-$150 per night rather than spend 35,000 points.)

Flight Points:
Now when it came to flights, I looked around at all the major airlines to see who had the best flight options for our plans.
I ended up going with the United Mileage Plus Credit Card because of their "Excursionist Perk". This perk is a little hard to describe, but if you look here and here it will explain it better. But basically, if you use points for the flight to and from Europe, you can add an additional leg in between for 0 points and just pay the taxes.
You must use the advanced search function to find your flights this way.
The other reason why I went with United was that their credit card had the best perks! The annual fee is waived for the first year AND it included a Global Entry credit, so you essentially get TSA Pre-check and Global Entry for free! You also get checked bags for free for you and up to 4 companions on the same reservation.
You can apply here for any of the United cards if these sound like perks you would like to have too!
So my boyfriend and I both applied for the United Explorer MileagePlus card. The offer at the time was 40,000 points and we had to get to 60,000. We both started with a few thousand in our accounts from a previous flight, the spending we put on the cards accounted for a bit, then we used some of their shopping bonuses and transferred some points from Chase to make up the difference.
Right now, the offer is 40,000 points so I would wait if possible for a 60,000 point offer. They changed the offer shortly after we got our credit cards and they would not match the current offer for us, so just something to keep in mind!

Step 2: Pick out your specific flights!
Once you have a bunch of points, it is time to find the perfect flights!
Picking out the flights for our trip to Europe wasn't very difficult for me because I wanted to leave as late as possible on a Friday and come back early-ish on a Sunday.
Then I used that excursionist perk to add our flight from Mykonos to Athens.
Side note: I did have an issue booking this itinerary on the website for both of us online. I called United and the customer service rep was able to get both reservations to go through so don't get discouraged if you run into an issue on the website.
Here is the rundown of our flights and cost:
Los Angeles to Rome 4/24/2020:
LAX-FCO, 3:50pm-1:50pm, 13hr 50min total travel time: 30,000 points + $40.30
Mykonos to Athens 5/8/2020:
JMK-ATH, 5:45pm-6:20pm, 35min travel time: 0 points + $17.70
Athens to Los Angeles 5/10/2020:
ATH-LAX, 10:25am-4:40pm, 16hr 35min total: 30,000 points + $48.55
Total cost: 60,000 points + $106.55
These reservations included 1 checked bag for each of us on each flight.
One other thing to note is that United has changed their point system recently so some of the flight options are now 33,000 points instead of 30,000 one way. But not all, so look for those 30,000 point flights if you don't have the extra 3,000.
Step 3: Pick out your specific hotels!
At this point, do your research to find the best options for hotels for the points you have accumulated.
ROME (April 25-27, 2020)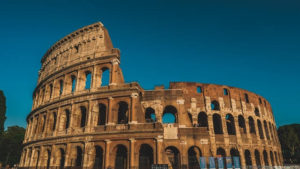 I had earned 100,000 points with Marriott Bonvoy and used those points to book 2 nights at Le Meridian Visconti Rome for 70,000 points.
The fees would have been 12 euros for the 2 nights.
I just checked the Marriott website and it looks like they have reduced the points needed per night which is amazing! You can probably book one of the higher tier hotels in Rome for the same price as this one was. Woohoo!
FLORENCE (April 27-May 01, 2020)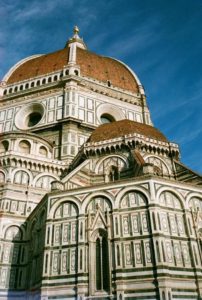 Our next stop was going to be in Florence. I had also earned 125,000 Hilton points through the Hilton Business card with Amex.
So I used that to book 4 nights at the Hilton Garden Inn Florence Novoli. I booked a King Deluxe room for 38,000 points per night which came to 152,000 points total. It looks like they've also reduced their points needed here, another win!
Now, this hotel does look like it is not in the best location for Florence, but it is very close to a train/trolly that takes you right to the center of town. Since we weren't paying anything for the room, I felt like we could make some compromises on the location.
AMALFI COAST (May 1-5, 2020)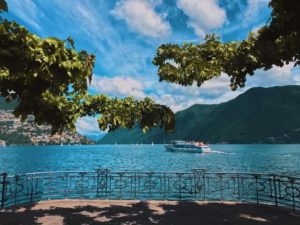 Next up we were going to the Amalfi Coast for 4 nights.
This was going to be with friends who had family members getting married in Italy. So we were going to split an Airbnb cost with 2 other couples but we never got an exact cost for this.
When I do book this trip again I will most likely book an Airbnb in Positano for us and will shoot for the cost to be around $200 each so $400 total maximum. I did recently cash in points through my work for a $100 Airbnb gift card that will help with this!
SANTORINI (May 5-7, 2020)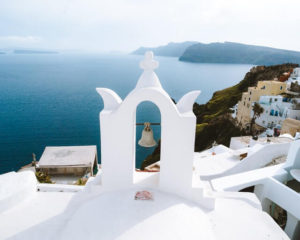 After the Amalfi Coast, we were going to head to Santorini, Greece! This is where the Chase Ultimate Rewards points came in handy.
After a lot of research, I finally landed on booking Lava Suites in Fira. This was the only thing I booked that was non-refundable, which was very silly of me.
COVID had started to emerge but I still had high hopes that our trip was going to happen. Boy, was I wrong. Just a reminder, it is always better to book travel that is flexible and can be canceled or moved if needed.
Everything else I was able to either get a refund or a voucher for future use, which was great. But I am bummed at the loss of these points 🙁
The room total for 2 nights was $323.96 for a Superior room. I used 23,316 points and paid $32.51 in cash. The confirmation says there would be additional taxes to be paid at the hotel of 6 euros for the 2 nights.
MYKONOS (May 7-8, 2020)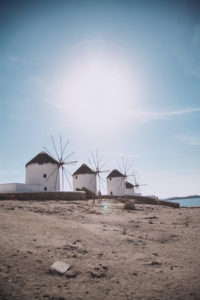 Our next stop was going to be Mykonos for a night! I just had to see this island even if we didn't have much time.
I was most excited about our hotel here. We booked a Superior Room with a HOT TUB and sea view for 16,925 points and $0. Our fees at check-in would have been 3.36 euros.
*The total would have been $211.57 if I hadn't used points. That's where the 25% discount comes in. Chase points are valued at 1 cent per point so essentially only paid $169.25 for the room instead of $211.57. If you have the Chase Sapphire Reserve I believe this discount is 50%! But this card comes with a higher fee.
ATHENS (May 8-10)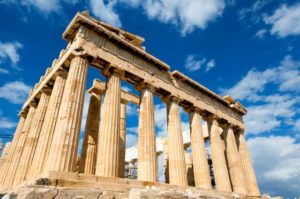 Thankfully I had held off on booking the Athens hotel because COVID shut everything down. But we were looking at using some more Chase Ultimate Rewards points somewhere in the Plaka neighborhood where we could walk quickly to see everything we wanted to see in the limited time we had.
Traveling Within Europe (Trains, Buses, Ferries, etc)
The smaller transportation items I was going to get when we got there, like the bus from the airport to the hotel in Rome, getting to the hotel in Florence, etc.
But we did purchase a few of the bigger transportation items in advance. I wanted to make sure we had seats on the trains we wanted.
*One quick tip here, I would use a general search for train tickets, find the one I wanted to book, then find it on the direct website. I found that some of those search websites add extra fees on your tickets!
I also read that you can easily buy tickets when you get there, but I like to have a plan in place beforehand.
The train from Rome to Florence I booked through the Italo website. We paid 29.90 euros for each train ticket.
Our friend booked the train ticket from Florence to Naples on Trenitalia for us and those cost 47.90 euros per ticket.
We didn't pre-book our transportation back to Rome for our flight to Santorini.
I booked us flights on Vueling direct from Rome to Santorini. I didn't want to lose any time since we had so little time in Greece. This cost $132.87 each and included our seats and bags.
Lastly, I booked us on the ferry from Santorini to Mykonos on Ferryhopper. Two tickets totaled 133.60 euros, or 66.80 euros each.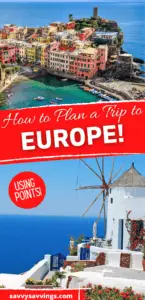 Now, let's total it all up!
$106.55 – United Flights per person
$7.12 – Fees for Rome Hotel at the current conversion per person
$23.27 – Fees for Florence hotel at the current conversion per person
$19.80 – Santorini Hotel per person
$1.99 – Mykonos Hotel per person
$0.00 – Athens Hotel
$35.38 – Train Rome to Florence at the current conversion per person
$56.68 – Train Florence to Naples at the current conversion per person
$132.87 – Flight from Rome to Santorini per person
$79.33 – Ferry to Mykonos at the current conversion per person
$462.99 TOTAL (per person)
Obviously, this is missing the Amalfi Coast Airbnb cost (as I mentioned above, I would estimate this as no more than $200 per person, but will try to get it lower if possible) and the train from Naples to Rome for the flight to Santorini (found pricing on Italo for 33.9 euros which would add $40.11).
Total all of that up and you get $703.10!
And How Much I SAVED using Points:
This is just an estimation. Where I don't have the actual numbers from when I booked, I am checking the current rates for the same dates next year and will use the lowest price possible to compare. This also only includes the items we actually booked:
$744.70 – Flight from LAX to Rome (Lufthansa)
$76.27 – Flight from Mykonos to Athens (Olympic Flex ticket)
$501.67 – Flight from Athens to LAX (Turkish Airlines Economy)
$347.00 – Rome Hotel (2 Nights)
$525.28 – Florence Hotel (4 Nights)
$291.45 – Santorini Hotel (2 Nights)
$211.57 – Mykonos Hotel (1 Night)
$2,697.94
As you can see credit cards can be super helpful when it comes to planning a trip to Europe! Let me know in the comments if you are going to take an awesome trip next year with points! Where will your points take you?!
Please share with your travel buddies by using the buttons on the left!!
If you want to learn the process I use to accumulate points and miles for free travel, check out my ultimate guide to credit card hacking!