Have you been thinking about making some extra money lately? 
Or maybe you've been furloughed or laid off because of COVID and are looking for new ways to make money, but you don't know what to do. 
Grocery Delivery has surged over the last 6 months as COVID has spread throughout the country and you have an opportunity to make some extra cash while helping people with an essential service!
Find out exactly how the Instacart platform works and how I used it to maximize my earnings!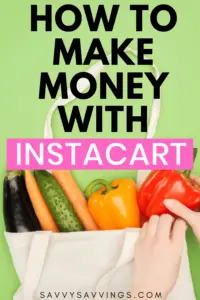 How do you become an Instacart shopper?
There are 2 ways to work for Instacart, you can work as an in-store shopper or a full-service shopper. 
In-Store Shopper
Working as an in-store shopper, you make a flat wage per hour with scheduled hours. This is more like your traditional part-time job. 
Not all markets have in-store shoppers, but if you are looking for something more stable and they are available in your area, then you should try and apply for one of these positions.   
I don't have personal experience as an in-store shopper, but the way it works is, for stores where Instacart has a lot of orders, the in-store shoppers are scheduled to work during the busiest times and they actually shop and fulfill the orders in-store and then a full-service shopper will come and pick up the order to be delivered. 
To become an in-store shopper, you must: 
Be at least 18 years old

Be eligible to work in the United States

Have consistent access to a recent smartphone

Have the ability to lift 50 pounds or more with or without accommodation.
Full-Service Shopper
As a full-service shopper, you will receive orders through the shopper app, drive to the store to do the shopping, and fulfill the order(s), then you will deliver the order to the customer.
You can work as much or as little as you want as a full-service shopper. Instacart has even made it easier than ever by transitioning their app to a first-come, first-serve basis, so you no longer have to schedule your hours to work.
To become a full-service shopper for Instacart you must:
Be at least 18 years old

Be eligible to work in the United States

Have consistent access to a car

Have consistent access to a recent smartphone

Have the ability to lift 50 pounds or more with or without accommodation
You can apply to become an Instacart In-Store or Full-Service Shopper HERE. 
You do have to submit an application and at the time I applied, I had to submit a quick video of myself answering some questions. I believe they will do a background check as well. 

So, how much do Instacart shoppers make? 
This depends on many factors, mainly how many hours you work and how many orders you complete. 
I have worked for Instacart for a little over 2 years now (I recently stopped due to COVID but may start working again now that I am more comfortable going out to stores). And I kept track of all of my pay from the very beginning. 
For a little more context, I work full time from 8-5 Monday thru Friday so I would work Instacart after my full-time job during the week and on the weekends. When I first started I would work for 3-4 hours after work a few days per week and another 3-4 hours on the weekend days when I was available. 
But more recently, I reduced my hours and worked only 2 hours after work a few times per week, and only 2-3 hours per day on the weekends when I wasn't busy. I'll explain my hours' strategy in more detail below. 
I consistently averaged about $20 per hour. Some weeks were higher and some weeks were lower.
Here are the exact total averages for each year:
2018 – $22.57 per hour with an average of 6 hours per week (I made a total of $4,942 for 2018)
2019 – $20.84 per hour with an average of 4.5 hours per week (I made a total of $4,506 for 2019)
$20 per hour is not too shabby for a side hustle!
How do Instacart Shoppers get paid? 
Instacart will have you set up a direct deposit and they pay you every week on Wednesday if you have earnings from the week before. They may also have an option to receive a physical check, but this will be much slower.
How to Use the Shopper App
Once you are approved as a shopper, Instacart will send you a debit card to use for your orders and a t-shirt and lanyard (I believe). It's been a while since I signed up so some of this may not be correct now. 
You will also be given access to the shopper app, which is a separate app from Instacart's shopping app for customers. 
This is where you will complete a few training sessions and eventually you will see "batches" (this is what Instacart calls orders). 
This is what my shopper app looks like: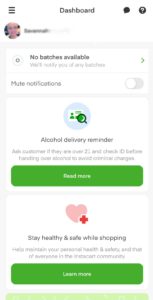 If you want to work, you just have to open the app and make sure your notifications are turned on. Even if it is not currently open, you will get a notification when a new batch is added. 
When you open the app, all of the batches will show up on the top of the main page. 
You can open the list to view all of the available batches, it should look something like this: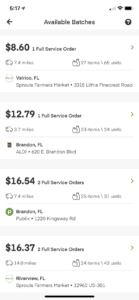 For each of the batches, you will see the pay that is offered, the number of items, what the items are, and the delivery location: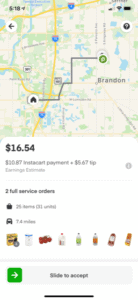 If you see a batch that you like, you can slide the bar to Accept. 
Tips on How to Shop for Instacart
-Once you accept a batch, you will drive to the store. When you arrive at the store, you slide the bar confirming you are at the right store. You must go to the store location the app tells you. 
-If an item is out of stock, you can replace the item. The app will show if the customer has a preferred replacement, and if they don't, the app with show suggestions for replacement items. 
-I would often message the customer if I had any questions just make sure I get what they want. If an item is out of stock and their preferred replacement is also out of stock, go ahead and send them a message offering a few other options. Sometimes they won't respond and you will have to make the best selection you can. When you get to the delivery address, you can ask them if the replacements are ok, if they are not ok with any of them, you can delete the item from the order. 
-However, make sure to find your customers' items exactly as they are on the order if you can. Don't just try to replace them because you are too lazy to find the right item. And don't be afraid to ask an employee if you can't find an item. This is a customer service job and customers will appreciate it if their order is as correct as possible. 
-The app tries to tell you where an item is located but this can be incorrect sometimes as stores change their layouts semi-often. So just because you can't find an item on that aisle, doesn't mean it is out of stock. 
-The more you shop, the better you will get at picking items and the faster you can complete orders. The training provided by Instacart will help you get started, but being in the store as often as possible is the best way to get better at shopping and learning the store layouts. I liked to stick as close to my home as possible so I knew the stores the best and I wasn't wasting too much time driving to other areas. 
-You want to make sure your fruits and veggies are the best looking options available. I once got dinged for an ugly onion. You better bet every onion I picked from then on was as near perfect as possible! You should look for no bruises or discoloration. 
-Customers can rate you after you deliver and leave comments. If you have less than a 5-star rating Instacart will not show you new batches first so you want to make sure your rating is as high as possible. 
-Make sure to check the customers' comments before checking out with your order. I once delivered groceries using plastic bags and when I got to the delivery page, I saw they had left a comment saying they wanted paper bags only. I was pretty embarrassed when I showed up. 
-That being said, I would always use plastic bags over paper bags (unless they were requested) because plastic bags are more durable and will not break on you during your delivery, which is never fun! 
-I also invested in a fold-up wagon like this one. This helped tremendously in delivering the groceries. I could make fewer trips and not be worn out from carrying all of the bags myself.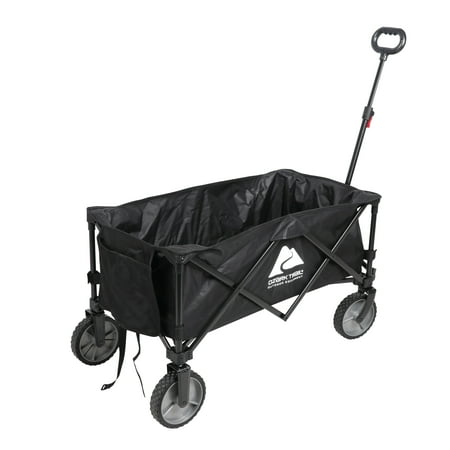 Tips to Maximize your Pay with Instacart
-Instacart used to have you schedule your hours about a week in advance, but now they have moved their app to a first-come, first-served basis. This is good and bad. This is good because it is more flexible. You aren't locked into specific hours at all. But it is also bad because everyone can be on the app at the same time so the competition for batches is high. So you have to get good at reviewing batches quickly and accepting the ones you want quickly, otherwise, the order will be gone in no time. 
-The pay for each batch varies based on many factors. The number of items in the order, the weight of the items in the order, the distance you have to drive for delivery, and the tip. When I was working I was pretty selective when it came to the batches that I selected. I would not just accept any order because a lot of orders can waste your time. I looked for the highest-paid orders with the least amount of items or the easiest items.
-I used to do a lot of smaller orders (under 10 items) because they were easy to do and I could do quite a few of them in a shift. But I got away from doing that because they took a lot of physical work, back and forth to the stores.  
-Then I focused on only larger orders (30-40 or more items) because you can do one and make the same as about 3-4 smaller orders. But those were also very difficult to do. Some orders were so big I had to use 2 carts. Then when it came to delivery, that was even harder. 
-So as I got better at picking batches, after a lot of trial and error of some bad orders, I would pick orders with a medium amount of items (anywhere from 15-30 items) with high payouts (mainly from the tip). I try to shoot for as close as possible to $1 per item in the order. This won't always be possible but the closer you get, the better! 
-If there was little to no tip, I would ignore the order altogether. From my experience, if a tip wasn't added in the beginning, the person would not tip after the fact. I also learned that the hard way. 
-You always want to make sure you check the delivery location. I live in LA and if the order was on the larger side or had heavy items, I would make sure the delivery was a house and not an apartment. I wouldn't completely rule out delivering to an apartment, but I would make sure the items were easily carried before accepting.

Taxes as an Instacart Shopper
If you are a full-service shopper for Instacart then you are considered an Independent Contractor and that means you can write off your expenses on your tax return.
Please keep in mind that I am not a tax professional and this is just meant for informational purposes. If you have any specific questions about your tax situation you should reach out to a tax professional. 
I also used an app to easily track my expenses. You can use Everlance or Stride or just create your own spreadsheet. The apps can automatically track your miles, though, which is a huge help. 
You can write off:
Gas

Mileage

Car washes

Wagon

Insulated bags

Car repairs 

Basically, anything you use for delivering groceries. 
Make sure to keep your receipts! If you have an app, you can also snap photos of receipts!
Is being an Instacart Shopper Worth It?
I think Instacart is definitely worth your time if you need extra money or just money in general because your main source of income is now slowed down or stopped altogether. 
If you learn how to pick the right orders and know your stores like the back of your hand, then making good money with Instacart will not be hard!
Check out my post on 6 Steps to Setup a Budget that Works to learn the best way to setup your budget and make the most of this extra income!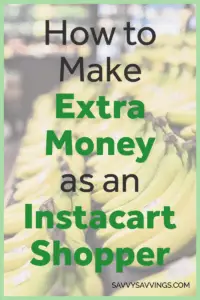 If you have any questions about my experience with Instacart, let me know in the comments! And please share if you think it could help someone you know make some extra money!