Have you ever dreamed of planning a trip to Hawaii and lounging on the beautiful beaches? Or taking in the amazing views on the many scenic hiking trails they have throughout the islands?
I know I have! But the reality is, Hawaii is a pretty expensive place and it may not be in your budget to go. 
But, let me show you how to book Hawaii for practically free using credit card points! You can get there much faster and enjoy your vacation sooner, than if you had to save up thousands of dollars for your trip!
You may also like: The Ultimate Guide to Credit Card Hacking, How I Saved $10,000 on Travel Last Year, Why Southwest is the Best Airline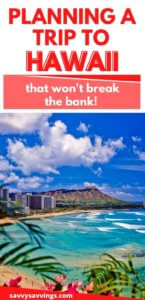 *Keep in mind right now, there are COVID restrictions in place for Hawaii. I will go into more detail about what we had to do for our trip to Hawaii below. 
The Process of Planning an Affordable Hawaii Vacation
First, if you aren't already in the credit card game, you should check out my post on how credit cards work to get comfortable with the process! You should also check out the ultimate guide to credit card hacking!
For the purposes of this post, I am going to give you the details I used to book a trip to Honolulu for my birthday! And, I am also going to include the general information to help you book your trip as well!
Flight Options to Hawaii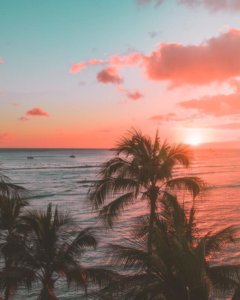 You may already have some points with an airline you can use which is great!
But if you don't, then you need to do some research to see what airlines fly to Hawaii from your home airport. 
I like to use the ITA Matrix site to research most of the available flights for certain destinations on certain dates.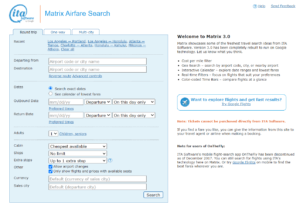 Now I wouldn't be too focused on the price because, with most airlines, the points needed will remain the same regardless of price. But this is a good way to get an idea of the airlines and flights that are available for your area. 
Now, make sure you don't forget about Southwest or JetBlue (if they fly from your home airport). These flights won't show up in the ITA Matrix search. 
If you do live in a place that Southwest services and you have the Southwest Companion Pass, this can make your Hawaiian vacation even cheaper! If you would like to learn more, check out my Southwest Companion Pass post! Also, check out why I think Southwest is the best airline out there!
For my trip, I booked a flight from Burbank to Honolulu on February 03, 2021, for only 6,864 Southwest points! The cost of the one-way flight at the time was only $108. (I like to think about the realized cost as $68.64 for this flight, or a discount of $40!)
For the flight home, I originally booked Honolulu back to Burbank on February 07, 2021, for only 8,814 Southwest points. The cost of this one-way flight was $128. 
*Now both of these flights were on Southwest and, since I have the companion pass, the total cost for both my boyfriend and I was 15,678 points plus $5.60 each! (To get the companion pass you have to accumulate 125,000 Southwest points so this flight is roughly 12% of the total points I accumulated!)
BUT, since the Super Bowl is on February 7th, and I wanted to be back in time for it, we decided to cancel the Southwest flight back, and book an American Airlines non-stop flight back to LAX on Saturday evening. We used $119 in credits each for this flight that we had from a canceled flight last year. 

BONUS TIP #1:
Right now fares are pretty low, and regardless, fares always vary throughout the year. So make sure to compare the cost of the actual flight and the value of points you will use before automatically using points. Sometimes it may make more sense to save the points for a higher-priced flight. 
(For example, the flight we are on for American Airlines is 30k points but the fare is only $213 right now. Those 30k points could be used for another flight that costs $500 or $700 or more! A flight to Europe is typically 30k points! So make sure the math makes sense!)

BONUS TIP #2:
Once you book a flight, with points or money, don't just forget about it. Check the website regularly to see if the fare has changed. Southwest has always made it easy to basically re-book your same flight for the lower fare and get a refund in points or credit in dollars for the difference.  
But now, thanks to COVID, most other airlines will let you make the change and refund you, as well! If in doubt, call and ask! But I was pleasantly surprised that the American Airlines website let me make this change online!
Phew, I feel like that was a lot about airline points. Now, let's talk about hotels!
Hotels in Hawaii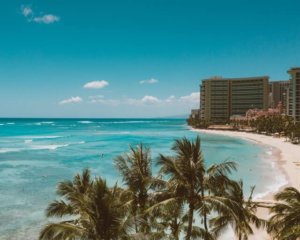 If you have read my post on how I booked a 2-week trip to Europe for cheap, then you know I was never really a fan of hotel points. They just never seemed like a great value for the number of points. 
I do, however, feel like hotel points are great to go after for special trips that would otherwise cost a fortune, like an amazing Hawaiin vacation!
There are so many different options when it comes to hotels, that it may take a bit of time to figure out what will work best for you!
I like to start my research using Hotels.com just to get an idea of the hotels in the area I want to visit. I think they are a great website to use for the cheapest hotel prices around!
But once you have an idea of the specific area you want to be in, and hopefully an idea about the specific hotel you would like to stay at, then it's just a matter of figuring out what points make the most sense to get!
You can go directly with a hotel credit card to get the points required. Right now Hilton has some amazing offers for $150,000 points! These points can get you 3 nights for free at the Hilton Waikiki Beach!
You can always scale this up and save more points to stay at fancier hotels or stay for more nights!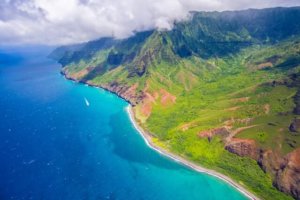 Another option is you can go with a card like the Chase Sapphire Preferred which is a general travel reward credit card. And you can either transfer these points to Marriott, IHG, or Hyatt directly. Or you can use them to book through the Chase travel portal for a 25% discount! 
American Express also offers some credit cards that have transfer partners and their own travel portal you can use. 
As you can see, there is a myriad of options when it comes to hotels. 
For me, I recently discovered that Hyatt really offers the biggest bang for your buck when it comes to hotel points!
Hyatt offers free nights starting at 5,000 points per night (a vast majority being in the 8,000 to 12,000 points per night). This is drastically different from Marriott and Hilton, where the lowest free hotel nights are much higher and harder to come by at a low cost. 
For my birthday trip, we booked the Hyatt Centric Waikiki Beach for 15,000 points per night for 3 nights. The dollar value of this stay is $928 for 3 people! 
Plus Hyatt has a special offer right now where we get 25% of the points back! So 3 nights at the Hyatt Centric is costing us only 33,750 total points for 3 people! That's only 11,250 points per night! And resort fees are waived on award nights!
Hyatt has many properties on the Hawaiian Islands all ranging from 12,000 points to 40,000 points per night!
So, I would highly recommend looking at Hyatt, or Chase, or American Express points and book a hotel through one of their portals. Hawaii does have many affordable hotels and using the Chase discount makes the prices even better!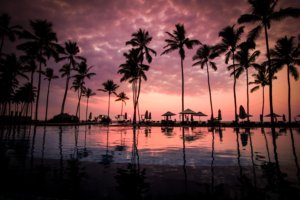 Travel Restrictions for the Hawaiian Islands
Keep in mind right now, because of COVID, Hawaii does have travel restrictions in place. 
For most islands, there is a 10-day quarantine restriction for all in-bound visitors. However, this requirement can be bypassed by the pre-travel testing option. As long as you provide a negative COVID test within 72 hours of departure from a state-approved testing partner.
Kauai is the exception. You can keep up to date on the Hawaii travel information here. 
Here in LA, I will say it wasn't the easiest to find a test that was approved. The options are limited and you definitely will not find one that does not cost at least $80-$150.
We finally found that LAX has a few different testing spots within and around the airport. We chose to make an appointment at the rapid testing location and it cost us $125 per test.
BONUS TIP #3:
If you have an FSA account through work, you should be able to use funds from that to pay for your COVID test.
It was simple and easy to park and walk up for the test. There was no line and we were promised our results in 3-5 hours. If all goes well and our tests are negative, then we upload our results to the Hawaii Safe Travels website and we should be on our way to Hawaii in just a few days! Woohoo!
I hope you enjoyed learning about planning a trip to Hawaii for basically nothing with points! Please share it on Pinterest with the pins below!
If you would like me to write a follow-up post on prices of food and activities and such in Hawaii, let me know in the comments!
And don't forget to check out my ultimate guide to credit card hacking!