Do you like making free money on purchases you are already making?! Then look no further than this Fetch Rewards Review!
There are a lot of cash back/rewards apps and websites out there (like Ibotta). But I think Fetch is the best and easiest to use! 
Keep reading to find out why!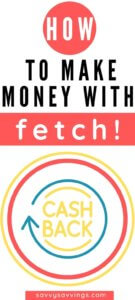 Is Fetch Rewards Legit?
I am here to tell you, YES! Fetch is a legit and safe app to use! Fetch Rewards is a legitimate company that awards you with points that you can then redeem for legit gift cards. 
From the Fetch Rewards website: "Easy, fun, and oh-so rewarding. We work directly with hundreds of beloved brands to bring you an entirely new way to go beyond just getting rewards. With Fetch, you feel truly rewarded. Join the Fetch Rewards revolution today."
How does Fetch Work?
The Fetch Rewards app is pretty simple to use! Especially compared to other cashback apps. 
When you open the app, it will look like this: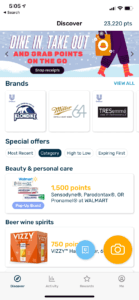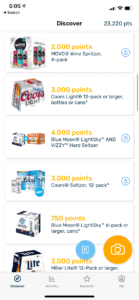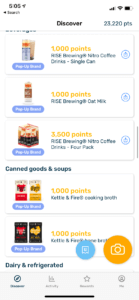 Here you can see the brands at the top and special offers below that. You can scroll through here to see what items have the best offers!
I really like Fetch because I often buy the items on the special offers so I can rack up points very fast!
2,000 points are equal to $2 in real rewards!
Scanning Receipts
In order to scan your receipts, you click on the orange circle with a camera in the lower-left corner on the home page. 
It will bring up the receipt scanning page: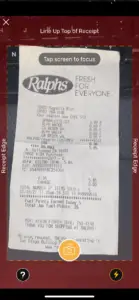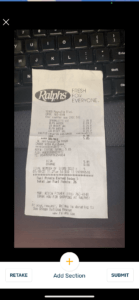 You can add extra sections for really long receipts. 
Then you click "Submit" and Fetch reads the receipt and awards you points automatically based on your purchases!
If you didn't purchase any bonus items, you will get 25 points for just scanning a receipt!
So make sure that you scan all of your receipts that qualify!
If you believe they missed a bonus item on your receipt, you can scroll down on the page and click on "Correct Receipt"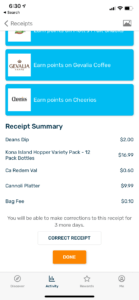 How long do you have to scan receipts?
You can scan a receipt for up to 14 days from the date of purchase. And you can upload a max of 14 receipts per week.
eReceipts
This is a newer feature that I just started using! You can connect your email and your Amazon account with the Fetch app. 
Once you connect your accounts to Fetch, click on the smaller blue button on the home screen, it will scan your email and/or your Amazon account and give you rewards based on any online purchases you made in the last 14 days!
This is incredibly simple and a great extra way to get rewards!
With your email connected, you can also get rewards at:
-Walmart
-Target
-Shipt
-Costco
-Instacart
-Sam's Club
-And more! Check out the full list in the app!
Just open the app, click that blue button, and the app will scan your email automatically!
You can sign up for Fetch here!
Some of the Brands that Work with Fetch
Annie's

Huggies

Jet-Puffed

Simple

Blue Moon

Henry's

Vizzy (the absolute best seltzers out there!)

Aquafina

Bubbly

Gatorade

Tazo

Cheerios

Resse's Puffs

Hellmans

Yoplait

Oui

Oscar Meyer

Klondike

Totinos

Knorr

Aleve

Cottonelle

Lots of Magazines

Dove

Doritos
That is just a small list of all of the brands Fetch has deals for. See the full list of brands here!
Even though they do have deals with all of these brands, not all of them have offers at the same time. They rotate the offers often so there is usually something new!
How to Get a Lot of Points with Fetch
The best way to get a lot of points is to buy the items that offer bonuses! 
Now, do not, by any means, buy something just to get rewards. This would be counter-intuitive to saving money!
But if you are going to buy an item that is on the list, why not get the brand that offers the bonus?!
They also periodically will send emails about special offers like this one: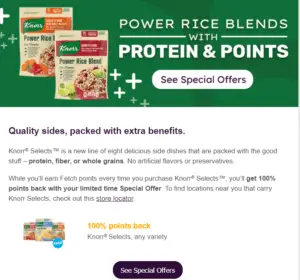 If you buy Knorr Power Rice Blends, you get 100% of the cost back in points. So you essentially will get a free item!
These bonus offers can easily add up to lots of free gift cards! Speaking of gift cards…
What kind of Gift Cards can you get?
Fetch has gift cards for all kinds of stores! Here is what the Rewards page looks like: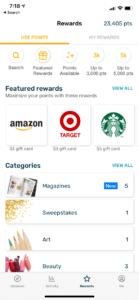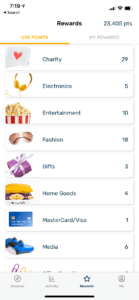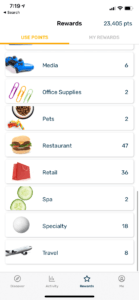 You can use points to enter sweepstakes for larger gift cards or you can use points to donate to 29 different charities.
Then some of the regular gift cards you can get include:
-Sephora
-Ulta
-Best Buy
-Fitbit
-Gamestop
-AMC Theaters
-Fandango
-StubHub
-Topgolf
-American Eagle
-Express
-Old Navy
-Bed Bath and Beyond
-HomeGoods
-Itunes
-Hulu
-SlingTV
-Tons of Restaurants
-And many more! Check out the full listing in the app!
They also off straight-up Visa Gift Cards but those cost a little more in points than store/brand gift cards!
How does Fetch Compare to Ibotta?
I recently wrote a review of the Ibotta app, if you want to check it out. 
So I have first-hand experience using both the Fetch app and the Ibotta app. 
I think they both have redeeming qualities and you could honestly get value from using both! 
But, that being said, I prefer to use Fetch because it is so much simpler! The app reads my receipts and automatically awards points to my account without me having to do anything else really!
Whereas with Ibotta, you have to add offers to your account first, then when you scan a receipt you have to select the item you added an offer for. Then you have to scan the packaging of that item. 
So I will continue to use Fetch for every receipt as I have been, but will also include using Ibotta when I remember to add offers. And I will definitely use their online cashback option!
Ready to Sign up for Fetch?
Ok, ready to sign up?? If you use my Fetch referral link here and my code (TM733), you will get 2,000 bonus points after you sign up for free!
Jumpstart your journey to making money with Fetch 🙂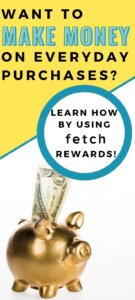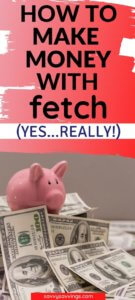 I hope you enjoyed this Fetch Rewards Review and learned something new! Please pin this and share it with your money-saving friends!
Check out these similar posts:

12 Things to Stop Buying to Save Money

Ways to Save Money on a Tight Budget and not Hate Your Life

Credit Card Hacking for Wedding