Are you struggling with knowing where your money goes? Do you consistently overspend and you don't know where to start to fix the issue??
Let's change that for the new year! I will show you how by tracking expenses the right way!
If you are like me, you have read time and time again from financial experts that you need to track your spending in order to get a grip on your budget and overall finances. 
But if you're also like me, you've sat there and stared at your screen wondering where the heck to start!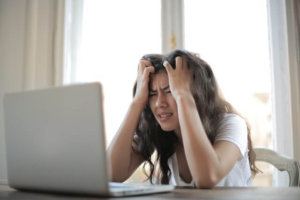 I was in that spot for a very long time. Up until last year when I finally made my own spreadsheet and it all clicked! 
And now I have the Savvy Savvings Yearly Spending Spreadsheet to use from year to year! 
I can easily see where my money goes, where I can cut back, and I can compare my spending over time and set goals to do better in the future!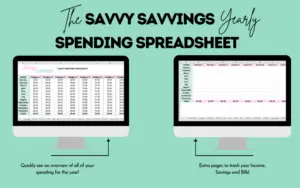 If this sounds like something you would like, keep on reading and sign up below to get your own download of the Yearly Spending Spreadsheet! It is available for free for a limited time!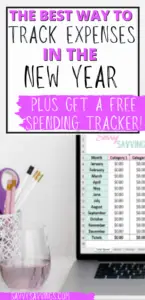 You may be asking yourself, "Why Should I Track Expenses in the First Place?"
I personally think that tracking your expenses is essential!
If you don't track your monthly expenses, then you will never know where your money goes! 
Some of the main benefits of tracking your expenses include:
Tracking your spending helps you to stick to your budget. 

It can open your eyes to why you may be in debt and can help you get out of it.

Tracking your expenses helps you keep track of your financial progress.

Knowing where your money goes helps you feel like you have control over your money and reduces your financial stress.

Looking at your finances on a regular basis can reduce impulse spending dramatically. Basically, you are holding yourself accountable for your spending habits, and seeing every expense can make you think twice about those impulse purchases. 

It can also help you find ways to

save more money

. 
Those are just a few of the main benefits, but really the benefits of tracking your expenses are endless!
I hope you are inspired to start tracking your money today! Keep reading to learn more and to see how my easy system works!
So, What is the Best Way to Track Monthly Expenses?
It's hard to say what the best way is to track monthly expenses because there are many ways that you can track your spending! It actually all depends on YOU and your finances!
Option 1: Track Expenses using a Budget App or Website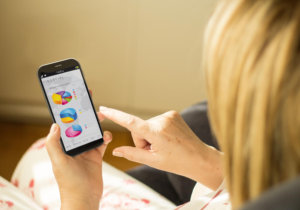 You can use an app or an online website. Most apps and websites can connect directly to your bank and credit cards and import the info for you. 
This can be super helpful if you have one or two cards or accounts you use for your everyday spending. 
And, this is probably the simplest and fastest way to track your spending. But if your finances are a little more complicated, an app or website may not be the best option for you.
I will go over some of the most popular apps and websites in the next section!
Option 2: Track Expenses Using Pen & Paper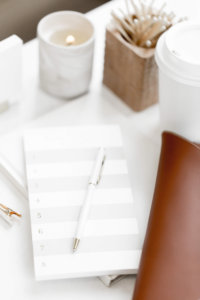 The second way you can track your spending is on paper. Some people just like to write everything down. 
This will take a little longer to do but if this works for you, then, by all means, use paper! Just keep in mind human error can occur so it's always good to double-check your work! 
Option 3: Track Expenses by Creating Your Own Spreadsheet in Google Sheets or Excel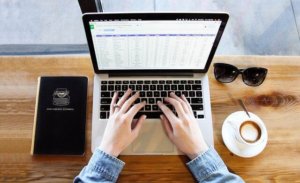 If you have the time and knowledge, you can create your own personal expense tracker in Google Sheets or Excel. 
This is a great free option, but it can take quite some time to create from scratch.
I found that I didn't like using pen and paper (it took too long) and that none of the apps worked for me either (my finances are a little too complicated and I would also forget to actually use the apps to track my expenses).
So I went with Option 3 and created my own! And now you can get your own copy to use TODAY!
Enter: The SavvySavvings Yearly Spending Spreadsheet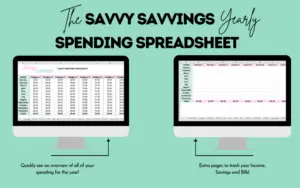 After a lot of trial and error and trying all of the options under the sun, I finally created my own spreadsheet! It took quite some time, but I finally got the formulas set up exactly the way I want. 
I also included tabs to track my income, my fixed bills, and my savings accounts each month as well!
If you want to see how I use the spreadsheet I created and get your own copy, skip down to the last 2 sections!
What is the Best App for Tracking Expenses?
There are a million budgeting apps and websites that you can use. Below are the most popular ones I have used or heard about:
EveryDollar – Created by Dave Ramsey. This was probably the closest I got to using a budgeting app effectively for my finances. It is based on the zero-sum budgeting idea, which I love because you should have a plan for every dollar you have!
Personal Capital – This is a financial planning and wealth management tool. I believe it was first used as a net worth tracking app, but now they track all of your accounts in one place and show your net worth as well. This is great in theory, but I am not able to get all of my accounts to connect and it has been a huge headache!
Mint – This is a budget tracker and planner. I have used Mint previously and loved it for a time. When I was starting out learning how to budget I used it, but it didn't do everything I needed so I created my own budget process.
YNAB – This is a personal budgeting software I have heard a lot about recently. People are raving about YNAB, but I haven't tried it yet because they have a fee of $11.99 per month or $89 per year. Maybe I will try it someday, as they have a free 34-day trial. But I feel like budgeting your money should not cost you extra money….
PocketGuard – This is a money management/spending categorization app that categorizes and organizes your expenses, monthly bills, and subscriptions into clear, beautiful tabs and graphs. This is another one I don't have personal experience with but have heard good things about.
If you would like an in-depth review of any budgeting app, please let me know!
So if your finances are pretty straight forward, I would recommend trying an app first like Every Dollar. Give it a little time to see if it fits your wants and needs. But if it doesn't, then keep on trying other options until you find the best fit for YOU!
What are the most common expense categories to use?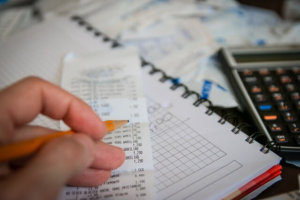 In my post 6 Steps to Create a Budget that Works, I talk about how I like to separate my monthly bills (or my fixed expenses) from my weekly spending (or varying expenses). Check out that post if you want more info on creating your own budget. 
When selecting your expense categories, you can be as general or as specific as you would like. 
For example, you can have a category called "Food", or you can break that down into smaller categories like "Eating Out", "Ordering In", and "Groceries". 
Below are some examples of expense categories that you could use: 
Eating Out

Ordering In

Groceries

Coffee/Snacks

Clothing

Car Expenses (Gas, repairs, oil changes)

Beauty/Makeup

Skincare

Uber/Lyft

Household Items (toilet paper, paper towels, cleaners, etc)

Pet Items (food, medicine, etc)

Entertainment (movies, comedy shows, etc)

Travel 

Health (vitamins, doctor copays, etc)

Subscription Services (Hulu, Netflix, Disney Plus)

Misc (I would always include a miscellaneous for any expenses that don't fit elsewhere. Then during the next year you can make adjustments to your categories.)
So, how do I track my spending?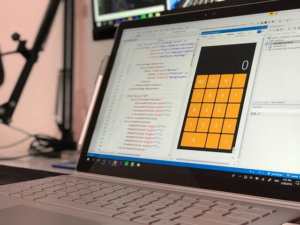 To give you a little more background as to why I don't like using apps or websites:
I manage money for my mom so a chunk of her money is always in my main bank account. I also pay her bills with my credit cards so it is burdensome to go in and mark all of her expenses in the app. 
Also, my boyfriend and I split a lot of expenses, and, like my mom's expenses, it's even more difficult to go in and split all of those transactions. 
And, we use multiple credit cards for different expenses in order to maximize our points!
All of those things make it very difficult and time-consuming for me to use an app to track my spending. 
So, to solve my problem, I first created my budget (after a lot of trial and error), then I created this Yearly Spending Spreadsheet that allows me to track my varying expenses, along with track my income, fixed bills, and savings accounts! 
The Process:
My overall process is 2 pronged, first I keep track of everything my boyfriend and I spend on a weekly basis and split the necessary purchases. I keep this info in a less sophisticated spreadsheet. 
No fancy formulas, just a listing of everything we spent. 
I am kind of crazy when it comes to keeping track of my expenses so I usually check all of our accounts multiple times a day sometimes!
Then, about every two or three weeks, I will go into my Yearly Spending Spreadsheet to copy over everything I spent during that time period into the appropriate category. 
I make sure to not go any longer than 3 weeks to do this because if I wait longer, I've found there can be too many expenses and I may miss some. So you should do this as often as possible. 
Put a reminder in your phone if you need to! 
Now, you don't need to necessarily track all of your expenses on a weekly basis. You could just pull up your credit card account or bank account and plug your info into the spreadsheet on a regular basis. (Even though I think you should use a credit card for all expenses. Check out my post on how credit cards work to learn more!)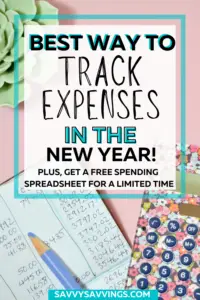 If you are ready to track your expenses, why not sign up for my newsletter and get your own Yearly Spending Spreadsheet today? It is free for the first 100 subscribers!
Here is what the spreadsheet includes:
The first page shows the breakdown for the entire year. 
This is where you will want to plug in the categories you would like to track, I have included 18 categories spots, use as many of them as you need: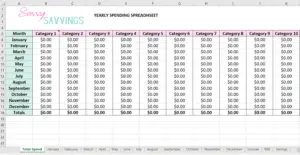 Then you have tabs for each month of the year. Each of the categories is pulled over into the month tabs: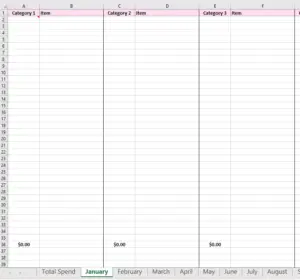 The final 3 tabs are the breakdown details for your income, fixed bills, and savings.
Income: you probably have more than one source of income even if you don't realize it. Some examples include:
Your regular job income

Side hustle income

Cashback from sites like

Rakuten

Cash Back from credit cards

Gifts from friends and family

Fixed Bills: this category is for all of your set bills for the month like:
Rent/Mortgage

Gas

Power

Water

Internet

Cable

Pet Insurance
Lease
Car Insurance

Savings Accounts: This tab is to track all of your savings accounts and how much you contribute to them during the year. This is very helpful to track and then compare it to the overall growth of your savings accounts for the year!

Now that you know how to track your money, get started today by subscribing to my newsletter, and getting your own copy of the Yearly Spending Spreadsheet! It is free only for the first 100 subscribers!
I will also be providing some awesome valuable personal finance content often!