Have you ever wondered "Is Ibotta legit"? I know I wondered that for a while!
But, I'm here to tell you: Yes, Ibotta is legit! And you can make hundreds of dollars from purchases you are already making!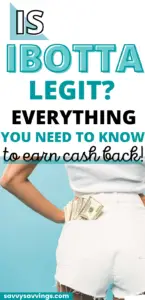 Related Post: Fetch Rewards Review – Easiest Cashback App
What is Ibotta?
Ibotta is a free cashback rewards and payments app that gives you real cash for everyday purchases when you shop and pay through the app. (Source: Ibotta)
Ibotta works a little differently than your typical cashback site, like Rakuten. They do have online cashback that is similar, but they also have some other unique features! And I will go into detail about all of them below!
You can even link Ibotta to your rewards account for some stores to make earning cashback even easier!
How Does Ibotta Make Money?
Ibotta makes money by referring you, as a customer, to stores and brands. 
When you use their app to redeem an offer (aka purchase a specific item) or go to a website from the app and make a purchase, they get money from their partner for driving your purchase. Then Ibotta shares a portion of that money with you, the customer!
You can check out the Ibotta website if you want to know more!
So, How Does Ibotta Work? 
First, you need to download the app and sign up with your information. 
This is what the app looks like when you open it up: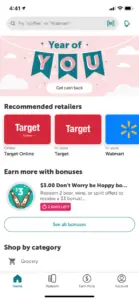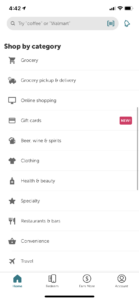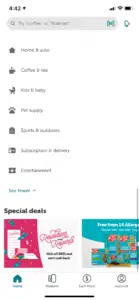 You can scroll through the categories and see all of the retailers. The categories include: 
-Grocery (for example Walmart, Target, Kroger, Sam's Club, Costco, Safeway, Dollar General, Whole Foods, Sprouts, etc)
-Grocery Pickup and Delivery (Target Online, Instacart, Shipt, Safeway Online, Vons Online, etc) 
-Online Shopping (Amazon, eBay, QVC, Walmart.com, Grubhub, Groupon, Macy's, etc)
-Gift Cards (You can buy gift cards through Ibotta and earn cashback from stores like Adidas, Bubba Gump, Chili's, Fanatics, Joe's Carb Shack, Subway, etc)
-Beer, Wine, and Spirits (Total Wine, Any Liquor Store, Any Grocery Store, Any Convenience Store, Bevmo)
-Clothing (QVC, Macy's, Zulily, Kohls, Old Navy, JCPenny, Nike, Lane Bryant, etc)
-Health & Beauty (Rite Aid, HSN, Ulta, Vitacost, Sephora, GNC, Vitamin Shoppe)
-Specialty (eBay, Groupon, HomeDepot, Petco, 1800Flowers, Dicks Sporting Goods, Gamestop, Fandango, etc)
-Restaurants & Bars (Grubhub, Seamless, Any Restaurant, Burger King Gift Card, Olive Garden gift card)
-Convenience (7-eleven, Circle K, Shell & Any Gas Station)
-Travel (Hotels.com, Booking.com, Expedia, Priceline, IHG, Hotwire, VRBO, Choice Hotels, etc) 
-Home & Auto (Home Depot, Bed Bath and Beyond, Lowes, Office Depot, Staples, Best Buy, Advance Auto Parts, etc)
-Coffee and Tea (Peets Coffee Gift Cards, Krispy Kreme Gift Cards, and Starbucks Gift Cards)
-Kids & Baby (Target, Walmart, Amazon, Sam's Club, QVC, Macys.com, Kohls, BuyBuyBaby, etc)
-Pet Supply (Petco, Pet Smart, Bark Box, Unleashed, etc)
-Sports & Outdoors (Walmart, Amazon, Nike, Dicks, Under Armour, Bass Pro Shops, Academy Sports, New Balance, Champs, etc)
-Subscription & Delivery (Thrive, Hello Fresh, Udemy, Hame Chef, Every Plate, Blue Apron, etc)
-Entertainment (QVC, Best Buy, Game Stop, Microsoft, Samsung, Sling TV, Ticketmaster, Hulu, Apple Music, etc)
Now that is just a listing of some of the stores Ibotta has deals with. Their website says that they offer cashback for over 300 stores for in-store cashback and over 750 stores for online cashback. 
Some stores offer both in-store cashback and online cashback, and some stores only offer one or the other. And a few stores only offer cashback on buying gift cards. This is a unique feature! 
I don't know about any other site or app offering real cashback on gift card purchases! 
If you are ready to get started with Ibotta, sign up here!
In-store Cashback
Stores include Cabela's, Lowes, Petco, Dominos Pizza, REI, Kroger, Ralphs, Walmart, Trader Joe's, Safeway, Sam's Club, Costco, and many many more! See all of the stores here.
Now, to get cashback for in-store purchase, you do have to do a little planning and go into the app to see which deals are available and select the offers you would like to redeem.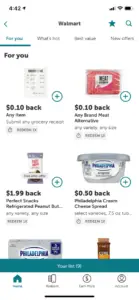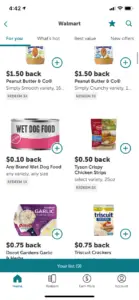 Then you head to the store and do your shopping!
Redeem Rewards by Uploading a Store Receipt
When you are done with your shopping, open the Ibotta app, click on redeem at the bottom of the screen, select the store you shopped at, and then scan your full receipt: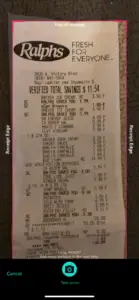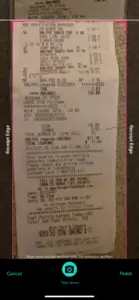 Then it will bring up all of your selected offers and you click on the ones you purchased:
Once you click on an offer, it will ask you to scan the barcode on the item (make sure you don't throw away packaging before you record the purchase in Ibotta):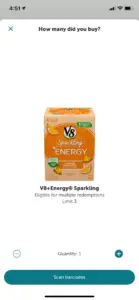 On the next screen, it confirms your cashback for the item. Then you can verify other offers if you have more to add. If not, click Collect at the bottom of the screen: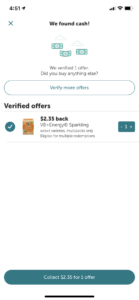 Then, finally, You will see this screen… SWEET! Cashback is then added to your account: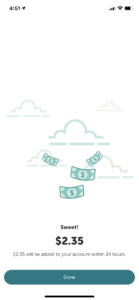 Link your Loyalty Account
Stores include Walmart, Target, Meijer, Hannaford, Wegmans, and more!
Another way to earn cashback from in-store purchases is to link your loyalty account so that you can bypass the receipt scan at the end of your shopping trip!
You will still have to go in and add the offers you want to your account before shopping. 
Final Overview of In-Store Shopping
If you often shop for the types of items Ibotta has deals for (I especially love the cashback they offer on alcohol as these are often a hefty amount back), then Ibotta will be lucrative for you. 
You may feel like if you don't shop for these items on a regular basis then Ibotta is not worth your time. 
But, we are just getting started because Ibotta has many other opportunities to earn cash back!
Online Shopping
Stores include Amazon, Sam's Club, Albertsons Online, Walmart.com, AliExpress, eBay, Ulta, Pet Smart, Walgreens, etc. Check out the full list here. 
This portion works a lot like a traditional cashback site like Rakuten. 
To get cash back for online purchases, open the Ibotta app, find the store that you want to shop at, and click Shop: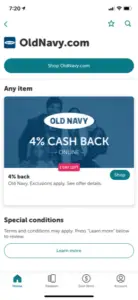 Complete your purchase at the store's website and you will get a percentage of cash back deposited into your Ibotta account. 
It's that simple!
Ibotta even has its own browser extension you can easily add to Chrome. Once you download it, it will alert you if you are shopping on a site that offers cash back on Ibotta.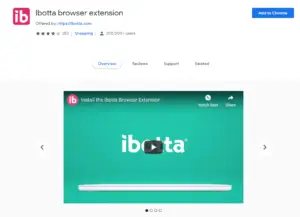 All you have to do is click activate cashback and you're done!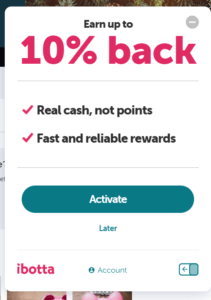 Ibotta Cashback on Gift Cards
On the app, one of the categories is "Gift Cards" and it says NEW next to it. So I only assume this is a new feature, but I can already tell this will be super valuable!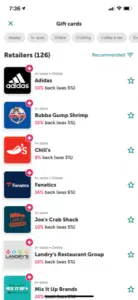 You can buy a gift card for a friend or yourself and immediately get up to 10% cashback in your account! I have never heard of another app offering this!
This is awesome because you can get cashback for a restaurant or retailer that you normally would not get cashback at!
I would definitely recommend always checking the Ibotta app if you need to buy a gift card! Otherwise, you are leaving money on the table!
Ibotta App Bonuses
Another way that Ibotta is unique is that they offer regular bonuses. If you click on the Earn More button at the bottom of the screen in the app, it will pull up all of the current bonuses offered: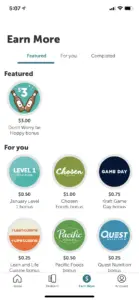 If you click on any of the circles you can see the details of the bonus offer: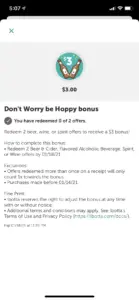 Complete as many bonuses as you can for the month!
Teamwork on the Ibotta App
You can earn even more cashback with friends using the Ibotta App and their teamwork feature!
First, you build your team by linking your account to Facebook, tell your friends on Facebook to do the same. Once you are both linked you will automatically be linked to a team!
Then, every month you are given Teamwork levels to hit. If you hit these tasks together, then all of the teammates get bonus cash!
You can see your progress here: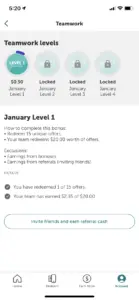 I think this adds an extra layer of fun and a great way to maximize your cashback!
My Personal Opinion on the Ibotta App – Is Ibotta Worth It?
I think Ibotta offers such a wide range of opportunities to earn cashback that really makes it unique and valuable for just about everybody!
The only drawback I see is that the in-store cashback is limited to the offers/brands they have available at the moment and that you have to add the offers to your account before shopping. 
I tend to forget to do this and have missed out on some cashback myself. 
However, I do like if I add an offer to my account it basically is added for all the stores that the product could possibly be at. This helps if I decide to buy an item at a different store than I originally planned. 
Also, the fact that they have such a large selection of online cashback options and the gift card cashback option, I will continue to use this app for the long haul! So, yes Ibotta is 100% worth using! 
Are you ready to start earning cashback with Ibotta?
Great! If you sign up using my referral link for Ibotta, you can get started today and get a $5 and $15 bonus ($20 total) after completing qualifying transactions. This is what the bonuses are right now, they may change over time: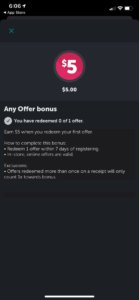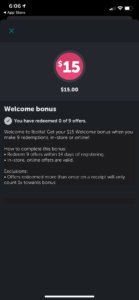 There you have it! A very in-depth review of the Ibotta App and how it works! We went over if Ibotta is legit, how Ibotta makes money, how to use Ibotta, and my personal opinion of the app! 
Also, check out my Fetch App Review here to see how it compares to Ibotta!
If you have any other questions I haven't answered here, please let me know in the comments!
And please share on Pinterest with the below Pins: