If you are new here then you may not know. But I think Southwest is the best airline out there! It gets a bad rap sometimes and I just don't get it! 
It's possible that people just don't fully understand how Southwest works. And because of that, they write it off. But that's a BIG mistake! I think Southwest offers the best value in the airline industry. 
Now let's dig into all of the reasons why I think Southwest is the best airline out there!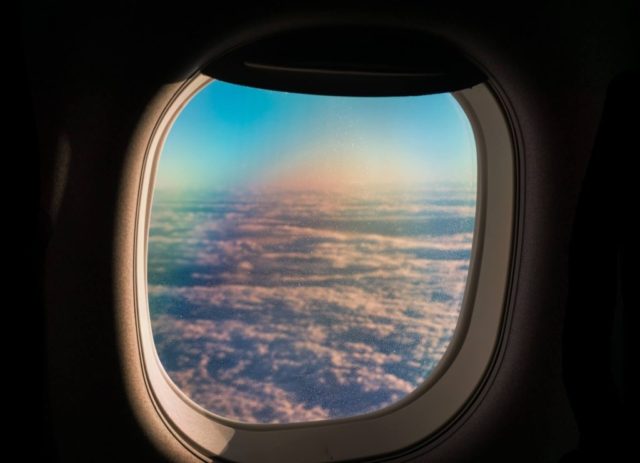 The Booking Process:
Southwest Reservations
The most important thing to remember about Southwest is that their fares and flights don't show up on any third-party booking sites. You have to go to Southwest.com in order to look at their flights and book them.
So always make sure to visit their website when you're looking for a new flight.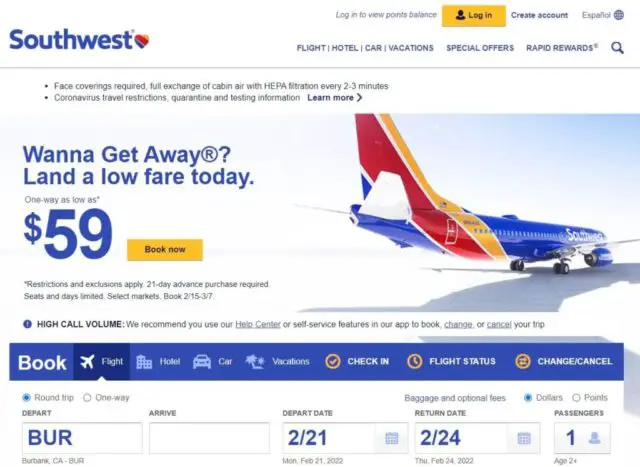 Fares and Point Value
Southwest offers some of the cheapest fares you can find, especially on their shorter routes. You can find one-way fares for as low as $69. They even have promotions sometimes where you can get fares as low as $29! 
On Southwest's longer flights or flights to smaller airports, their fares can appear on the higher end at first glance. But their fares change often. If you keep checking there's a good chance that you'll find the fare has gone down in price. 
I hardly ever really pay much attention to what the cash price is for a flight since I typically book my flights with points. After earning the Southwest companion pass every 2 years, I have at least 125,000 points in my bank to use. 
I think the point values on Southwest are great. You can check out this post on how I saved just under $10,000 on travel last year. The majority of those savings came from the combination of Southwest's points and the companion pass.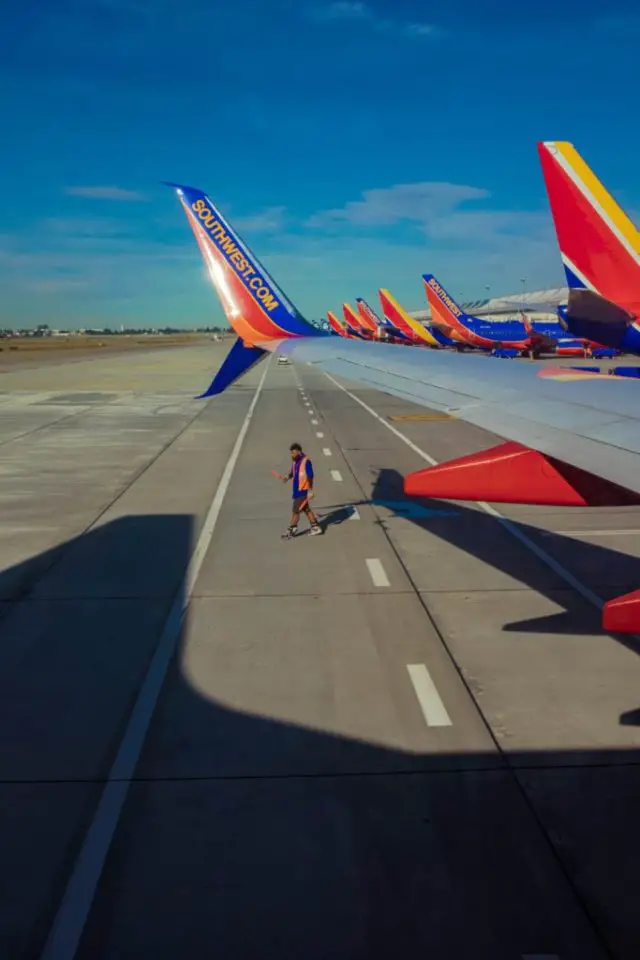 Companion Pass
Speaking of the companion pass…. It really is the best deal in the travel industry, especially if you like to fly domestically. I have a whole post on what the Southwest Companion Pass is, how to get it, and the best time to get it. Check it out for more details. 
But for the cliff notes, the companion pass is a pass that allows you to add a "companion" to any flight you are booked on with Southwest. You only have to pay the fees for their ticket. They are usually only $5.60 for domestic flights and around $20 or so dollars for any international destinations. 
You can choose your companion to be anyone. It can be your partner, your friend, your mom, or your child. You can also change your companion up to 3 times each year. 
The goal is to get the companion pass as early in the year as possible because it is good through the end of that year and the next! So if you plan it right, you can have almost 24 months to use the pass.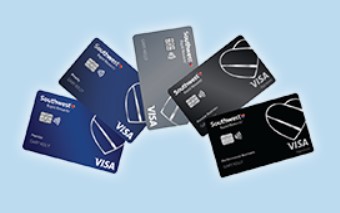 Credit Cards
The best way to gain the Southwest Companion Pass is the utilize the credit cards to your advantage. You need to accrue 125,000 Southwest points to earn the companion pass and the quickest way to get there is with the Southwest credit cards. 
Again, there is a lot more detail in this Southwest companion pass post, but they offer 3 personal credit card options and 2 business card options. 
Typically, you do need to get one of each type if you want to gain points through credit cards. Most people don't think that they qualify for a business card, but you would be surprised at what does count. 
I am currently working on my new pass and I got approved for the Southwest Business Performance card and will be looking to get the Southwest Plus card in the next few weeks. Together I will spend $268 for the credit cards, split with my partner, and then we'll get the full 125k points without any other effort. And those points will cover quite a lot of flights for us over the next year or two!
However, Southwest just released new offers where you can earn their companion pass through 2/28/2023 with 1 card plus 30k points! This is a great offer if you are newer to credit cards and want to get your feet wet!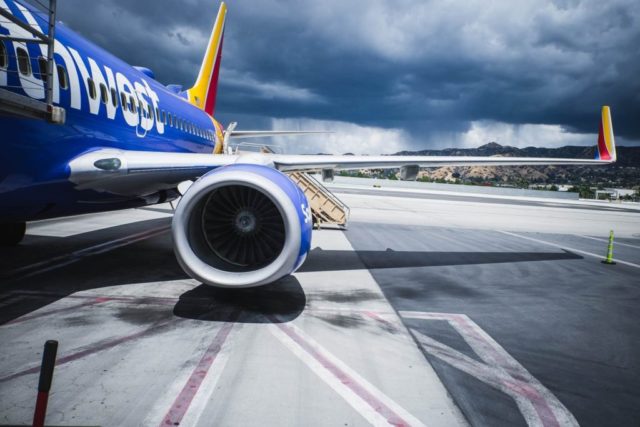 Flight Changes and Cancellations
Southwest has always had the most flexible booking system. The other airlines have only recently jumped on board because of the pandemic, but they still aren't as flexible as Southwest. 
On Southwest.com, you can change or cancel your flight at any time for no charge. If you change your flight, you would just pay the difference in cost or points, or get a refund. 
If the flight you are changing to costs less, you would get your points refunded or the cash difference would be issued to you via a credit (if you had booked the least expensive fare "Wanna Get Away"). The rules are slightly different if you book a higher fare type. 
If you used points and cancel a flight, you get all of your points refunded to your account. Sometimes, you are able to request a refund for the $5.60 fee, other times they will keep it as a credit for you to use in the future. 
If you paid cash for a flight, you would get a refund in the form of a credit to use in the future. 
I personally like to book each of the legs of my flight separately so it is easier to change, especially if I need to change just one of the legs. There is no difference in price for doing this.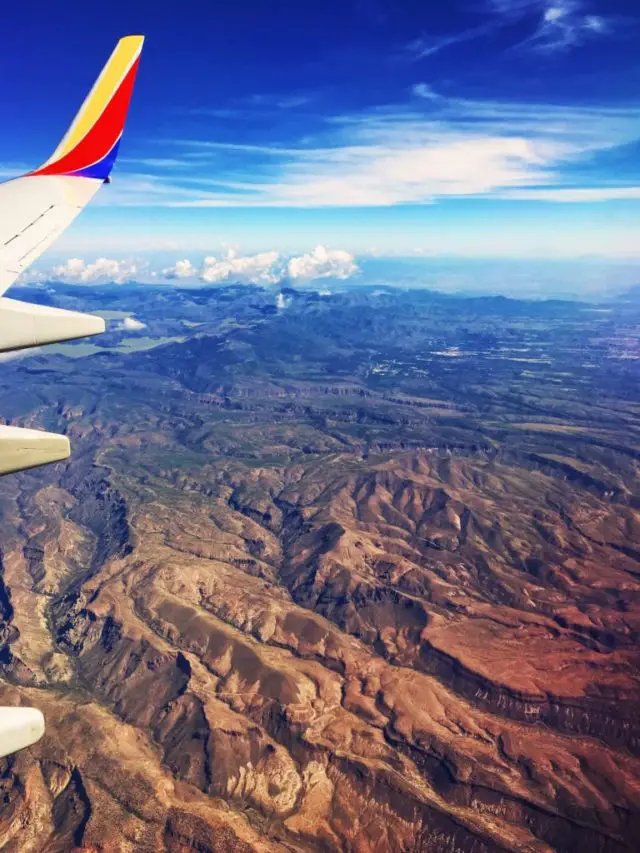 The Flying Process:
Routes
I feel like a lot of people don't know this, but Southwest flies to pretty much all major cities around the country. They also have quite a few international decisions like Mexico, Belize, Costa Rica, Puerto Rico, and more! 
I always check Southwest first for any flight I need to book!
Now I will say, Southwest has gotten rid of many of their direct flights for longer routes. I can no longer fly from LAX to Tampa direct which is a bummer. 
But Southwest does fly out of the smaller Burbank airport here in the valley which is my favorite airport to fly in and out of. So I am willing to make a stop for the ease of flying through Burbank. 
Look at all these destinations!: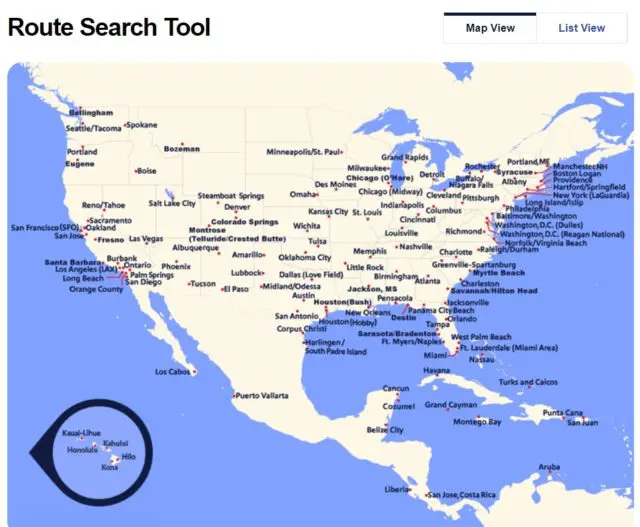 Southwest Airlines Baggage Policy
Southwest Airlines' baggage policy is the best in the business! Just one more perk of flying Southwest. Everyone gets 2 free checked bags on every Southwest flight.
I used to be an over-packer and always took advantage of this perk. Now I try to fly with a carry-on at all times if possible. But it's still nice to have the option to check a bag if needed.
Checking bags came in handy for us over the holidays. We were able to take what gifts we had with us and it gave us a lot of space to bring gifts back!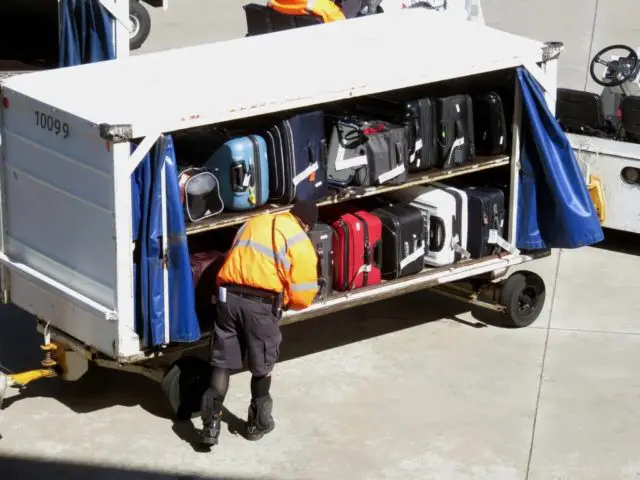 Boarding Process & Open Seating
This one always confuses people. I don't know why people get freaked out about choosing a seat. I love it! As long as you check in on time and get a good boarding position, you should have no problem getting the seat you want. 
Let's back up a bit and explain exactly what that means. On Southwest, you aren't automatically assigned a seat and you don't have to pay to pick one. 24 hours before your flight is scheduled to take off, you have to "check in" which is when you will be assigned a boarding number. 
This boarding number will be A15-A60, B1-B60, or C1-C60. (A1-15 is reserved for business select and a few other select guests). Then at the airport, they will board all of the A's first, then the B's, and then finally the C's. 
The higher the letter and number you have, the better. When you board the plane, you can choose any open seat you like. 
Now you can get screwed if you aren't on the app or the website to check in on time. Having a late C boarding position is not ideal and will likely result in a middle seat if the flight is full. 
But don't be this person. Set an alarm for a few minutes before the check-in time. Then it will take 2 seconds to check in once the time hits. Voila! Easy Peasy.
If you know you won't be available to check-in at the right time, then you can pay $25 to get early bird check-in and they will assign you a boarding position based on how early you added it. This way you don't have to be worried about checking in at a specific time.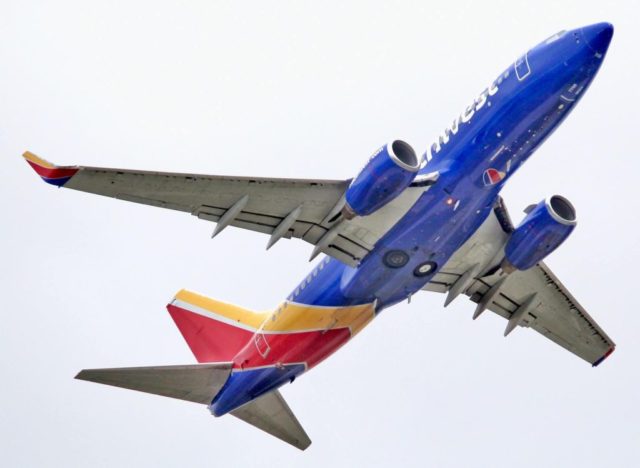 Drawbacks
I don't think it would be fair to you guys if all I included were the fine and dandy parts. But in all honesty, there are some drawbacks. 
The first drawback is that Southwest does not offer a first or business class on their plane. The closest thing they have is A-List and A-List Preferred which will give you a priority boarding (aka a higher boarding number). Or you can purchase a higher ticket class. The fare classes are Business Select, Anytime and Wanna Get Away: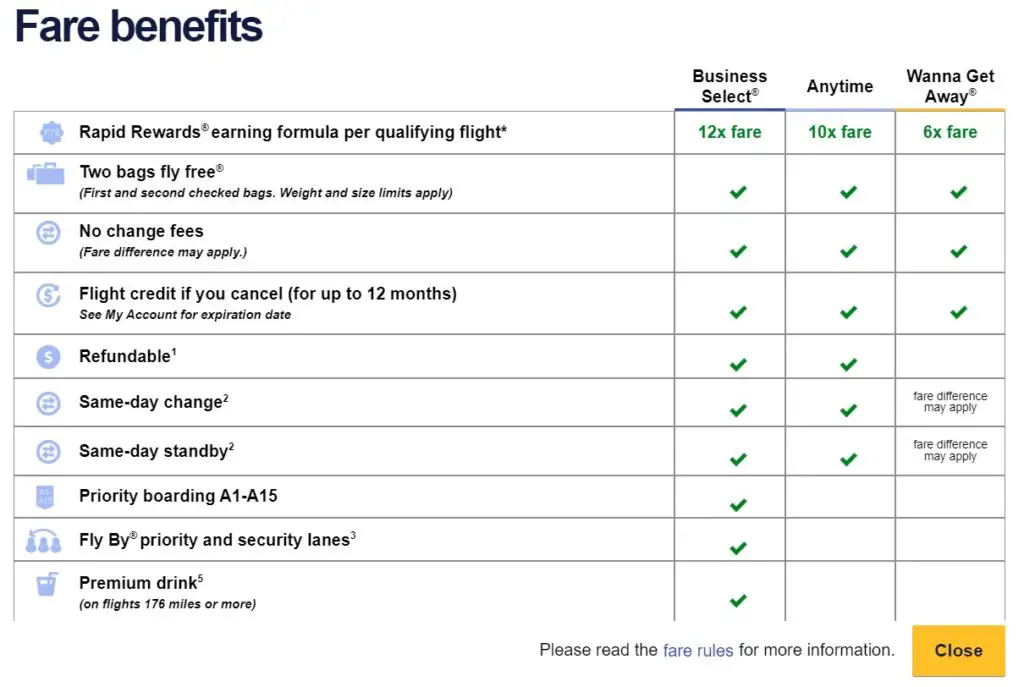 I have also had some not-so-ideal flight experiences, especially recently, on Southwest.
Now that's not to say the issues I ran into are specific to Southwest. All airlines have issues with cancellations, delays, lost bags, etc. Especially right now due to the pandemic. 
My Recent Flight Experiences
We were recently flying to the east coast for Christmas and we had a layover in Baltimore. But someone with the airport messed up the jet bridge and didn't put it in place correctly so we couldn't get off the plane. Once the jet bridge was fixed, we ran across the airport.
We arrived at our next gate only 3 minutes after the take-off time and the plane was still there! But they had closed the door and would not let us on the flight. They had automatically bumped us to the next flight that was 4.5 hours later!
To say I was mad is an understatement. I have never lost my cool in an airport before but the fact that they couldn't hold the plane for a few more minutes infuriated me. I will say they gave us each a $200 voucher which is alright. Vouchers aren't the best because you have to pay the taxes and fees yourself.
Then we boarded that flight hours later and we sat at the gate waiting for 2 passengers to make their connection! I was fuming!
Then on our way to Atlanta for a wedding on NYE, our Delta flight was completely canceled. Thankfully their app was super easy to use and we found a new flight quickly. But we had to fly out of another airport, with a layover and we didn't arrive in Atlanta until 12 hours after we were supposed to. But at least we got there and we had buffer time in that part of our trip so I wasn't as upset about this delay. 
Finally, we flew from Atlanta to Florida on Southwest after New Years to see more family. But this flight was fully canceled as well. At this point, I didn't even flinch. Thankfully, Southwest's cancellation policy is so great that it was super easy to get our points refunded. However, they did not have any availability on another flight until the next day which was a bummer.
So I went to work and found a flight on Delta that fit our criteria and was the same cash price as what the Southwest flight would have been. I used partial points to bring our out-of-pocket costs down and then we headed to the airport.
My recent experiences have taught me to go with the flow more and be flexible when issues come up. Flight issues are out of my control and I'm not doing myself any favors getting worked up about it. It helps that working from home allows us more flexibility in our travel too so we can stay places a little longer than we used to, which is nice!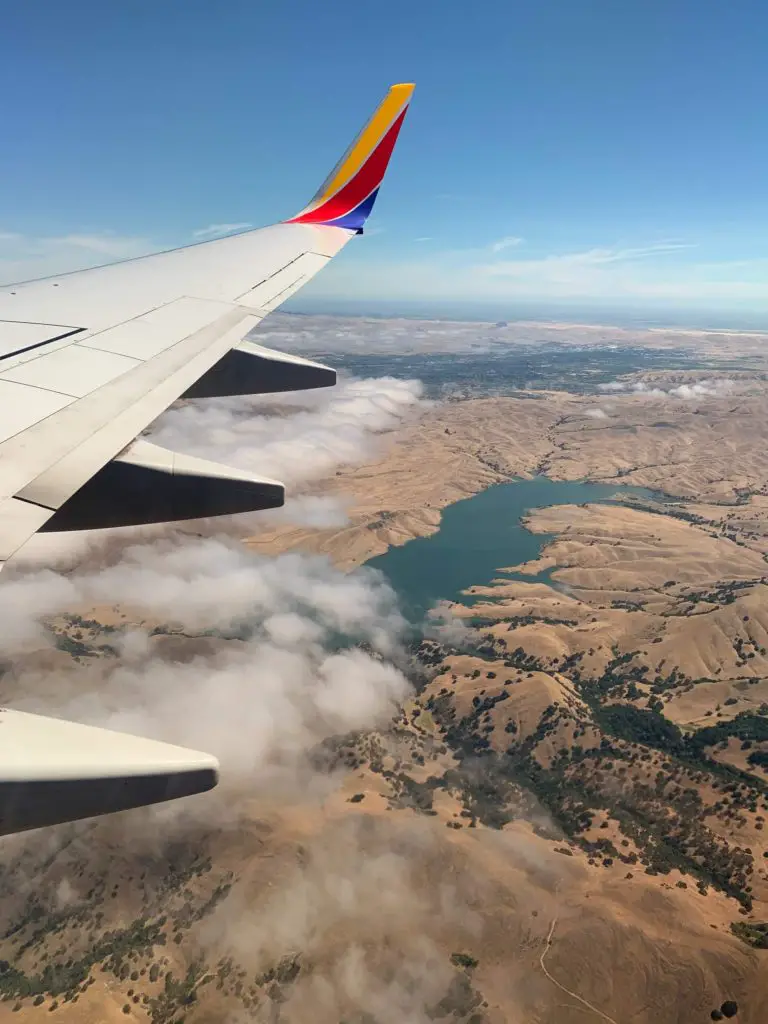 In Conclusion
Despite the drawbacks, I still believe that Southwest is the best airline out there! Southwest is a hidden gem and a lot of people are missing out because they just don't know how Southwest works.
But if you take the time to learn about Southwest and how to use their website and their points system, you will be very happy you did! You may join the bandwagon and think Southwest is the best airline out there too! I hope to see you on my next Southwest flight!